As we've talked about many times, multiple piercings are super cool right now. If you need more proof, Kylie Jenner just re-pierced her multiple lobe and cartilage piercings.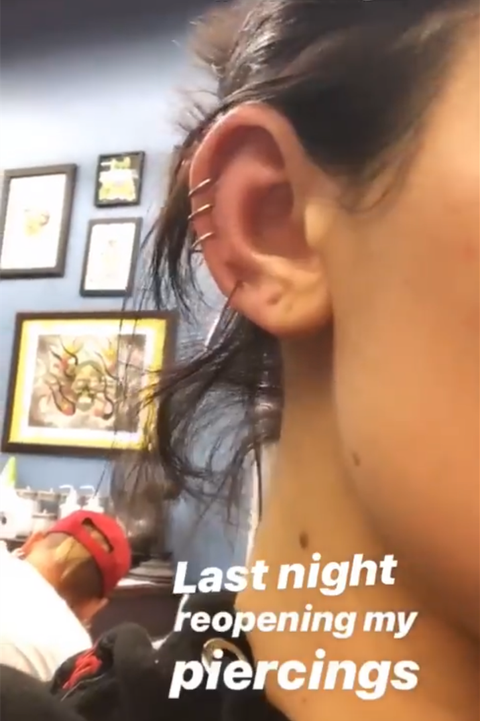 Photo: Instagram
If you're not ready to commit to another piercing you can always add a couple ear cuffs to get a similar look. However, if you are ready to get a new piercing, you want to be sure that you are prepared to care for your delicate piercing while it heals.
To help you out, here is a step by step guide for how to take care of your newly pierced ears. 
Before you get your ears pierced, there are a few steps you should take to prepare yourself:
Choose a reputable piercer. Read our article, here, on how to find a choose the right person to pierce your ears
Select high quality piercing studs. Ask your ear piercer beforehand what their piercing studs are made of and do your research to make sure they are using high quality metals that won't cause your ears to react. 
Eat healthy and exercise. This will improve your immune system and help your body heal faster. You should continue to live a healthy lifestyle after your ears are pierced so that they heal properly. 
Once your ears are pierced, it is time to really make sure you are careful with them. Your body's instinct is to fight off foreign bodies, so you want to make sure you are properly caring for them and avoiding actions that could cause your body to become even more angry with your piercing.
Always wash your hands before touching your piercings.
Use warm water sea salt soak twice a day and after showering. Sea salt will naturally help your body heal and will flush out any irritants that might have gotten into your piercing. To make a sea salt soak, mix 1/4 teaspoon of sea salt with 8 oz of warm water. Then soak a clean cotton ball or pad in the solution and apply to your piercing for 5 minutes.
If your ear piercer provided you with antiseptic wipes use those as directed; if not, hydrogen peroxide can be applied with a cotton swab twice a day to clean around the piercing
Do not twist the earrings, this can cause additional damage to the delicate tissue.
Change your pillowcases every night for the first couple weeks so they are clean. Your pillowcases can collect irritants from your hair and skin which can cause an infection in your sensitive ear piercings.
Sleep on your back so that your earrings do not get caught or pull on your ear while you sleep
Be careful that your piercings don't get caught or pulled while you are getting dressed. This extra damage can cause your piercings to take longer to heal.
Wait at least 8 weeks before changing your earrings - it may look or feel like they are healed from the outside, but it takes a while for them to heal all the way though. Changing your earrings too soon will cause additional trauma to your piercing site. 
Watch for signs of infection, and treat it as soon as possible if an infection develops.
Things you need:
Saline or sea salt rinse
Hydrogen peroxide or antiseptic wipes
Cotton swabs
Clean pillow cases